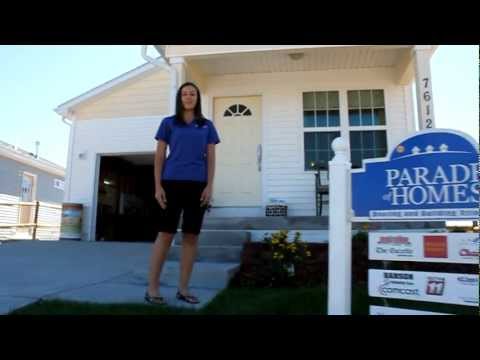 There are some things that just don't go together naturally. 
Terms like "sushi dinner." 
Or  "humble politician." 
Even "intelligent journalist." 
And I never imagined I'd put "Pikes Peak Habitat for Humanity" in the same sentence with "Parade of Homes." 
It just never occurred to me. 
I love the Parade, which is sponsored by the Housing and Building Association of Colorado Springs.
Each year, it gives riff raff like me a peak inside the world of the wealthy. 
Or at least inside the world of people drunk with debt. Whatever. 
Thanks to the parade, I've seen houses with indoor streams and mountains and theaters and gymnasiums and more. 
Houses that resemble ski lodges. Big beautiful homes. 
It's like window shopping at Tiffany's. I know I'd never be able to buy anything but it's fun to dream. 
Still, I would never have imagined the parade would have on display a home built by Habitat for Humanity. You know them. They are the group that builds modest homes for low-income folks. They provide no-interest, 30-year mortgages, but require homebuyers to save and invest a significant downpayment, as well as contributing "sweat equity" in the construction of their homes.
They do great work. Just not the kind of thing typically featured in the parade.
Same for the Rocky Mountain Community Land Trust. They have a home in the parade as well. You might not be as familiar with the trust. 
Since 1996, the trust has been helping low-income folks buy their first homes. Unlike Habitat, the trust typically retains an ownership stake in its homes so when a homeowner decides to sell a few years later, the trust can ensure the home goes to another low-income family.
They also help with transitional housing and finding affordable rental homes for needy people. 
The two parade homes are in Woodmen Vistas, a 10-acre subdivision they have developed as partners since 2007. It is northeast of Woodmen Road and Powers Boulevard. Access it from Tutt Boulevard.
 When completed, Woodmen Vistas will have about 68 homes built with old-fashioned alleys in the back."We want people to see our neighborhood and what our homes are like," said
Paul Johnson
, Habitat executive director. "It's very important people see you can have a simple, decent affordable home that's very functional and a very good place to raise your family."
Bob Koenig, executive director of the Land Trust, hopes parade visitors will come away with a different opinion of affordable housing. "There's a lot of stereotypical thinking about affordable housing," Koenig said. "We want to show people what it is and what it isn't."
Here's a look at the house built by the Land Trust.
 It has 1,643 square feet, three bedrooms and two-and-a-half baths. To qualified buyers, it will sell for $156,000.
It it a two-story home and  has a stucco exterior and a two-car garage.
.
Pikes Peak Habitat for Humanity built a ranch-style home with three bedrooms and one bath and 988 square feet for the 2011 Parade of Homes. It features solar heating and water systems. It sells for $159,000. Here's a look at it.
They get the full Parade of Homes treatment and even get their own webpage. 
View the Habitat entry's page here.  
Check out the Land Trust's Adams home here. 
Follow this link to the Housing and Building Association of Colorado Springs. 
This takes you to the Parade of Home website. 
Here's a link to the Parade of Homes map for 2011. 
Click here and watch a tour of the Habitat house.
==================================================