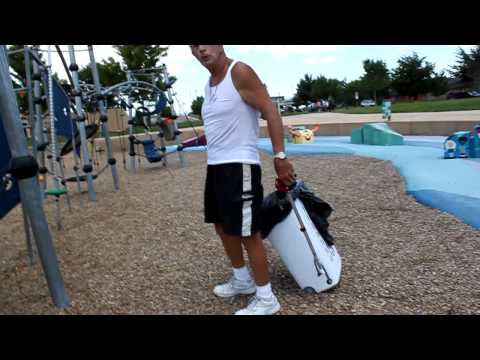 If you see James "Mr. Jim" Wright at America the Beautiful Park, or Prospect Lake or Shooks Run, say "hi" and "thank you." 
Mr. Jim has spent the last five years picking up trash in the parks. Every day, from March through October, he spends a couple hours a day in each park, walking around with his aluminum grabber and plastic bucket, collecting trash.  
He doesn't get paid. In fact, he uses his own disability and Social Security funds to buy trash bags. He's just volunteers his time to help others.  
 

"Mr. Jim" Wright spends an hour or two a day picking up cigarette butts, popsickle sticks, paper and other trash at American the Beautiful Park. He patrols the park daily from March to October. He also polices Prospect Lake and Shooks Run Park.
.  
Mr. Jim isn't looking for grandeur or applause. He's content to get a simple "thanks" or a smile from child or parent who appreciates his work.  
I'm always amazed at the number of retirees who use their free time to volunteer in our parks and schools and museums.  
I'm grateful they choose to use their time to help others.  
So, I already thought what Mr. Jim was doing was impressive enough.  
Then I learned his story and my appreciation grew.  
Mr. Jim is a former construction worker who became disabled when he severely broke his back on a construction project at the Antlers Hotel in 1970.  
He fell two stories on the construction site and landed on his feet between shafts of rebar awaiting the next pour of concrete. 
"I was very lucky," he said. "I landed between the upright rebar. I could have been impaled." 
Then, a few years later, he met and married JoAnne and together they ran her bar, the Robin Hood Inn on North Nevada Avenue, until 1985 when she was diagnosed with breast cancer. 
"We sold the place when she became sick," he said. "I took care of her for 10 years. It was a fulltime job." 
  
Before she became ill, Mr. Jim worked seven years to develop a stamp machine that he later patented.
He used it to automatically print the Robin Hood Inn's name on lottery tickets they redeemed and returned to the state.
The machine eventually earned him a small royalty when it was adopted by convenience stores. But it never made him rich.
Today, he lives on his disability pay and spends a portion of it every week buying trash bags that he uses in city parks.
He also buys Frisbees and beach balls that he takes to the park to pass around to kids when the Julie Penrose Fountain is broken and the play structures are too hot for kids to climb upon.
I asked him how he can afford it.
"It gets a little much sometimes," Mr. Jim confessed. "But seeing the kids playing and happy is all the payment I need. When they smile and say, 'Hi, Mr. Jim!' That's my reward."
Thanks, Mr. Jim.
.
Check out his patented stamp machine by simply  visiting this link. 
.  
You can stroll America the Beautiful Park with Mr. Jim by watching this video.  
========================================================================